AAAE Early Career Economists Panel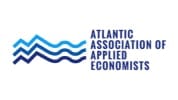 The Atlantic Association of Applied Economists (AAAE) is pleased to present its annual Early-Career Economists' Panel
Please come and support the next generation of economists as this event is a rewarding professional development opportunity for early-career economists as they deliver a wide range of research topics.
Panelists:
Belinda Powell – Economist, APEC (Atlantic Provinces Economic Council)
The Impact of Immigration on the US Labour Market
Many countries are seeking immigrants, with the macroeconomic effects of immigration remaining the subject of intense scrutiny. This presentation will share the findings of research on the effects of immigration on the US labour market, and how this may be changing over time. It will discuss whether immigration is responsible for the noted effects or whether it reflects broader population and labour supply trends.
Hunter Powell – Economist, APEC (Atlantic Provinces Economic Council)
An Examination of COVID-19 Vaccine Hesitancy in the United States
High vaccination rates are a key health strategy to manage the COVID-19 pandemic and reduce the risk of further lockdowns. The extent and reasons for vaccine hesitancy are therefore important to understand. This presentation uses questions on vaccine hesitancy in the US Census Bureau's Household Pulse Survey to show who is most likely to be hesitant to get a vaccine and the factors behind this. Possible policy responses are discussed.
Sarah MacPhee – Economic Analyst, Parliamentary Budget Office
Fiscal Sustainability Report 2021
Fiscal sustainability means that government debt does not grow continuously as a share of the economy. The Office of the Parliamentary Budget Officer (OPBO) assesses the fiscal sustainability of the federal government, provincial governments, territorial governments, and public pension plans using the fiscal gap. The fiscal gap is the difference between current fiscal policy and a policy that is sustainable over the long term. In addition, the fiscal gap represents the immediate and permanent change in revenues, program spending or combination of both, that is required to stabilize a government's net debt-to-GDP ratio at its current level over the long term (in our case, 75 years). To construct the fiscal gaps for each level of government and the public pension plans, several variables, such as revenues, program spending, GDP, population, and labour force productivity need to be modeled and projected forward 75 years in advance. In this presentation, I will review our most recent Fiscal Sustainability Report (FSR) results and discuss specifically the fiscal components (revenues and program spending) of the federal, provincial, and territorial levels of government.
Carrie Freestone – Economist, RBC
Migration to Atlantic Canada During the Pandemic
Throughout the pandemic, we have seen record levels of migration to Atlantic Canada (for a variety of reasons including housing affordability and workplace flexibility). The level of migration that we saw in Q2 was the highest since 1961 (when the period of data collection began). The majority of migrants arrived in Nova Scotia and New Brunswick from Ontario and Alberta.
If this level of migration persists, it could boost population growth once immigration resumes. An influx of migrants could help address labour shortages, drive stronger consumer spending and result in higher government revenues.
My presentation would address the trends we are seeing with respect to migration to Atlantic Canada and their potential impacts going forward as we emerge from the pandemic.
WHEN: Friday, December 10th, 2021, 12:00pm to 2:00pm ADT
WHERE: MS Teams – details to be emailed once registered. Please allow up to 48 hrs to receive invite and note that email will be from tainsworth@bankofcanada.ca, Tara Ainsworth, Secretary and Treasurer of AAAE.
COST: Members – $0 and Non-Members – $10
Discounted Rates
Logged in Members receive a discounted rate. Please login or proceed without membership pricing to sign up for this event.
Login
Continue without a Membership
Event Details
MS Teams
Dec 10, 2021
12:00pm - 2:00pm AST
Event Registration
Public Attendee List
Meaghan Zwicker
Fanny Siauw-Soegiarto
Robert Bartnik
Bradley Krause
Holly Chisholm
Alexander Chute
Katherine Ryan
Samantha Cleveland
Cristina Popovici
Fred Bergman
Patrick Brannon
Roger Miranda
Samantha Cleveland
Martin Hatcher
Laura O'Hearn
Jason Jensen
Radu Andrei Parvulescu
Robert Bartnik
Farzana Shaheen
Mike Milloy
Steven Wald
Anthio Yuen
Shirley Hazen
Sara Obidi