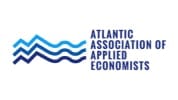 If you're an economist or analyst in Atlantic Canada, AAAE wants to be your go-to resource for up-to-the-minute professional development and networking. And we're not just asking you to join us, we want to make it an easy decision.
What We Do
Since our inception in the 1980s, we've endeavoured to make our Board representative of the area we serve, with at least one board member from each Atlantic province. We host regular, well-attended events that are excellent opportunities to meet economists and other professionals with a wide range of backgrounds and experience.
Monthly Events – Members and visitors learn about current topics and issues and get fresh perspectives, including those related to economics, policy and more. Each event has opportunities to network with like-minded professionals.
The AAAE Early Career Panel – A chance for local junior economists to present their recent research and receive valuable feedback from some of the region's best practicing economists and policy analysts.
The AAAE Student Panel – Beyond a great opportunity for university students to present their research to a professional audience of potential employers, it's a way for our members to keep a finger on the pulse of the future of our profession.
Applying Technology to Be More Inclusive – We know it isn't always easy or possible for people to attend every event, so our events are available by teleconference and we've held some events exclusively online.
Contact Information
1701 Hollis St., 13th Floor
Halifax NS B3J 3M8
Canada
tel: 902-420-4601
aaaemanager@cabe.ca
Where We Are Growing
Skills & Professional Development Workshops
With a growing membership base, AAAE plans to add 'hands-on' workshops to our calendar of events.
Leveraging Technology
In addition to making events more accessible across the region, we have the opportunity to turn it into a two-way communication to get feedback and new ideas through online polling and social media communities.
Networking, Networking, Networking!
In addition to the opportunities for learning, our members enjoy simply meeting and connecting with other like-minded professionals, so we'll do more of it.
Professional Opportunities
Whether our members are looking for career opportunities or professionals to fill them, we maintain active job postings on the CABE web site.

Atlantic Economic Council
Lana Asaff
President

Bank of Canada
Kevin MacLean
Vice President

Bank of Canada
Tara Ainsworth
Secretary & Treasurer

Bank of Canada
Sarah Miller
Past President

ACOA
David Amirault
Director

Atlantic Economic Council
David Chaundy
Director

NS Utility & Review Board
Holly Chisholm
Director

Halifax Partnership
Ian Munro
Director

PEI Department of Finance
Meaghan Zwicker
Director

ACOA
Roger Miranda
Director

PEI Department of Finance
Ryan MacLeod
Director

NS Department of Finance
Thomas Storring
Director

David Amirault
AAAE past President and ACOA, Senior Advisor
"The AAAE gives economists in the region a fantastic opportunity to come together to share information and perspectives in a collegial atmosphere. "

Lana Asaff
AAAE President and Atlantic Economic Council, Senior Economist
"The AAAE student panel attracts exceptional students from across the region to present their economic analysis. This is a great way for students to demonstrate their potential and gain helpful comments from practicing economists"
Laura O'Hearn
ACOA, Policy Analyst
"For a policy analyst at ACOA, access to such Atlantic-focused analyses and commentary is extremely useful. I look forward to attending future events"

Ryan MacLeod
PEI Department of Finance, Director
"Every year, the AAAE's early career panel brings together local junior talent to present high-quality research. The event provides them access to invaluable feedback from some of the region's top policy-minded economists. "

Sarah Miller
AAAE Past President and Bank of Canada, Acting Regional Director
"Beyond exposure to sound analyses and thought-provoking discussions, my recent involvement in the AAAE as president helps develop my leadership skills and build my professional network."

Tadiwa Mangwengwende
CMHC, Senior Economist
"The AAAE events provide the chance to meet other local economists and exchange views on current issues. I encourage everyone to join the discussion."