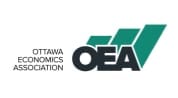 As a founding chapter of CABE, OEA has served political and business economics professionals in the nation's capital for more than 45 years. With a focus on economic and public policy, OEA offers members a  program of distinguished speakers, events and workshops, in addition to our flagship annual spring policy conference jointly hosted by OEA and CABE.
What We Do
At the core of everything we do are the goals of keeping our membership and guests informed and engaged on issues of current and future policy, and giving them the opportunity to learn, communicate, network and build relationships.
Monthly Speaker Series – Members enjoy a discount to our monthly series of presentations, generally presented during lunch hours.
OEA – Bank of Canada Workshops – A series of 4 workshops per year for members to learn more about the latest Monetary Policy Report.
Mentoring Events – Recent graduates and students have the opportunity to meet and engage seasoned professionals familiar with the political and economic environments in the Capital Region.
Annual Awards of Distinction – The OEA recognizes the contributions of distinguished economists. A members-only awards reception, past honorees include former Prime Minister Paul Martin and Bank of Canada Governor David Dodge.
The OEA/CABE Spring Policy Conference – Held annually for over 30 years, this conference is renowned in business and political circles as a must-attend event.
Contact Information
Where We Are Growing
Serving More Professional Communities
Economic and political policy affects us all and OEA seeks to serve professionals and businesses in a wide range of sectors.
The Conduit Between Business & Government
We are uniquely positioned in the nation's capital to bring together and improve understanding between two worlds that often work differently from each other.
Increasing Awareness
We perform a very important role in Ottawa and we want more of our colleagues and associates to take advantage.

Bank of Canada
Bolanle Alake-Apata
President

ESDC
Jean-Francois LaRue
Past President

Health Canada
Andrew Wong
Treasurer

Global Affairs Canada
Brigette Walenius
Corporate Secretary

Retired
Emile Franco
Director of Operations

IFSD Institute of Fiscal Studies and Democracy
Aimeric Atsin
Director of Communications

LabourX
Steven Tobin
Director of Membership

KPMG
David Nguyen
Director of Events / Deputy Treasurer

ECCC
Tasneem Rehman
Director of Student and Young Professional Events

Bank of Canada
Russell Barnett
Member-at-Large

Dany Brouillette
Member-at-Large

The Conference Board of Canada
Tobi Fakorede
Member-at-Large

Department of Finance Canada
Nina Gormanns
Member-at-Large

CABE/OEA
Joseph Macaluso
Member-at-Large

Canadian Chamber of Commerce
Stephen Tapp
Member-at-Large