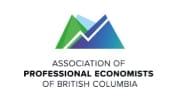 APEBC is British Columbia's premier association for business economists and other professionals interested in economic policy and research. Founded in Canada's centennial year of 1967, our members work for a wide range of organizations in government, academia, think-tanks, finance, business and consulting. We convene economic policy and research seminars approximately once a month, along with social events and opportunities for networking and professional development.
What We Do
APEBC regularly hosts events aimed at keeping our membership informed, enriched and connected.
Luncheons – Regular events featuring expert local, Canadian and international speakers from a broad spectrum of industries to enlighten and stimulate discussion on topics of local, provincial, national and international interest.
Meet & Greets – A chance for members to meet others in the profession, network and build relationships.
Workshops – Offering members and guests opportunities to add to and develop their skill sets.
The Annual Crystal Ball Award Presentation – Honouring the best economic forecaster in BC, according to how well participants predict eight economic indicators.
Contact Information
102 – 211 Columbia Street
Vancouver BC V6A 2R5
Canada
tel: 604.689.1455
Where We Are Growing
Broadening Our Horizons
APEBC is actively growing its membership to include non-economist professionals who have a keen interest in applied economics.
Engaging the Next Generation
We are always looking for opportunities to engage business students by increasing awareness of what we do, offering mentorship and inviting them to our meetings and events
Improving Careers
We are expanding our professional development offerings to include more practical and timely workshops and mentoring for students and young professionals

Business Council of British Columbia
David Williams
President

Alabaster Homes
Celene Chan
Past President

Canadian Mortgage and Housing Corporation
Pershing Sun
Vice President

Columbia Pacific Consulting Ltd.
Mark Szekely
Treasurer

Millennium Pacific Consulting Inc.
Andrea Sullivan
Registrar

Personal
Marisela Barajas-Rodriguez
Secretary

Deloitte
Crystal Arnburg
Director at Large

CREA
Ryan Biln
Director at Large

LifeWorks
Saad Khan
Director at Large

Retired
D. Christopher Lawless
Director at Large

MNP
Susan Mowbray
Director at Large

BC Financial Services Authority
Antonia Prlic
Director at Large
Andrea Sullivan
Millennium Pacific Consulting Inc., APEBC member for 21 years, Registrar for 15
"APEBC is the best value of any professional organization I know for its modest cost versus high intellectual value. The members are brilliant experts, the speakers insightful. Best CE in BC."
Armando Acosta
Economist
"My experience as APEBC member has been remarkable. I am able to meet outstanding professionals from my field, and all the events address relevant topics that are always engaging."
Calista Cheung
Regional Director (Economics), Bank of Canada
"APEBC is an excellent forum for learning from experts on various economic issues, and for networking and exchanging ideas with other economic professionals."
Dr. Roslyn Kunin
C.M., O.B.C., Roslyn Kunin and Associates, Inc.
"I joined APES shortly after finishing my PhD way back in the 1970's. It has provided useful contacts and information throughout my career, especially now that I am running my own consulting business."
Greg Taylor
"As a member since the early 1970's, I have always appreciated the opportunities to meet with colleagues and keep up to date on economic issues through APEBC, CABE & NABE. I have operated my consulting company since 1992 and focus on business development such as joint ventures for First Nations in the forest sector. "
Sylvie Lefebvre
Principal, Pierce Lefebvre Consulting, APEBC member since 1980 and past APEBC Treasurer
"APEBC has provided me access to a community of economics professionals, enabling efficient networking and supporting long-term professional growth. By attending several events a year either in Vancouver or Victoria for over 30+ years, I have met hundreds of economists working across all economic sectors of BC."