Dear colleagues:
I am pleased to announce that CABE has released its 2019 Salary Survey Report. This follows the Salary Survey that CABE released in 2017.
Highlights of what we learned include:
The median compensation for an economist working full-time in Canada was $100,000 to $125,000 annually – the same as in 2017.
Reported salaries varied by industry sector, region, and experience. For example, the median entry-level salary for economists in Canada was $60,000 to $80,000, an increase from 2017.
43% of respondents also reported receiving additional compensation, such as bonuses and stock options, with median additional compensation in the $10,000 to $20,000 range.
The report looks at differences in compensation by gender, visible minority status, education and job title; provides information about access to retirement, vacation and other benefits, as well as professional development supports; and details the survey methodology.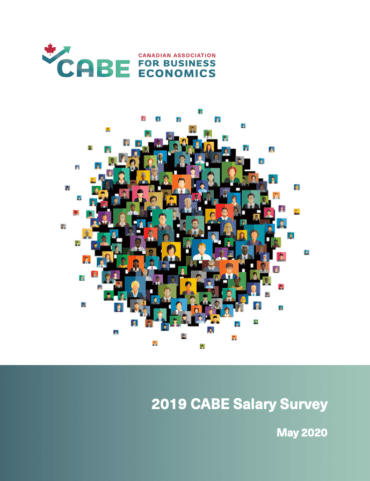 Members can access the full report for free here using their CABE login. Its use is exclusively for members, and is not available for circulation or reproduction.
Past Salary Surveys
We hope this report will aid Canadian economists in their employment paths and compensation negotiations, and help employers understand how their compensation and benefit practices compare to other organizations.
Sincerely,


Bonnie Lemcke
CABE President