Canadian Economic Outlook 2023 with Randall Bartlett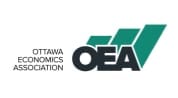 Like many economies in the world, Canada is experiencing a challenging period post-pandemic, dominated by high inflation. Economists widely believe this is a result of supply chain problems, high energy prices caused by Russia's unprovoked war on Ukraine, labour shortages and an aggressive quantitative easing policy.
To counteract high inflation, central banks around the world turned to aggressive quantitative tightening policy, and the Bank of Canada was no exception. It increased the overnight rate from 0.25% in March 2022 to 4.25% in December 2022. The Bank of Canada signalled that it is committed to bringing inflation back to the 2% target despite concerns about a recession. The objective is clear, inflation must be reined in, and prices must fall in line.
What is the impact of aggressive quantitative tightening on the Canadian economy? What position will the Government of Canada adopt in its fiscal policy? How will this impact the economic outlook? Find out at the OEA webinar on January 11. Randall Bartlett, the Senior Director of Canadian Economics at Desjardins, will address these questions and much more at the economic outlook webinar with emphasis on Ontario and Quebec.
Resources
Download the slides in PDF format:  OEA Webinar – Canadian Economic Outlook 2023 with Randall Bartlett

Senior Director of Canadian Economics, Desjardins Group
Randall Bartlett
Randall Bartlett is the Senior Director of Canadian Economics with Desjardins Group. Based in Toronto, he covers the Canadian and provincial economies & housing markets outside of Quebec, as well as government budgets & fiscal policy.
Before coming to Desjardins, Mr. Bartlett was the Director of Economic Research on OMERS' Total Portfolio Management Team, where he was responsible for global economic research and forecasting. Prior to that, he was the Chief Economist at the Institute of Fiscal Studies and Democracy, where he published Canadian economic, fiscal, and policy analysis. He has also held positions at PSP Investments, TD Economics, the Office of the Parliamentary Budget Officer, and the federal Department of Finance.
Mr. Bartlett holds a BA in Mathematical Economics from the University of Guelph and an MA in Economics from the University of Toronto. He also holds the designation of Chartered Financial Analyst (CFA).
CABE provides this information as a service to our members. Materials shown in the slides and/or video have been provided with the permission of the speaker(s). All rights belong to them unless otherwise indicated. CABE is not responsible for the accuracy or content of information contained. CABE is not responsible for, and expressly disclaims all liability for, damages of any kind arising out of use, reference to, or reliance on any information contained within this website.