Cities Post-COVID: What Does the Future Hold?
with Shauna Brail
Canadian cities are at the frontlines of the pandemic. COVID-19 has had devastating impacts on public health and economic vibrancy, and amplifies societal inequities. It is clear that cities, as the place where more than 80% of Canadians live, face a heavy burden as a result of the pandemic. Although an uncertain future awaits with respect to the continued vibrancy and allure of our cities as places to work, live and play – this presentation will address prospects for Canada's urban future, touching on the concentration of industries and employment in cities, shifts in housing markets, changes in mobility patterns and the emergence of public space as an unexpected saviour. We turn to a local expert and advocate for cities Professor Shauna Brail from the University of Toronto for outlook and insights.
About the Speaker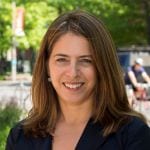 Shauna Brail
Associate Professor at the Institute for Management & Innovation,
University of Toronto Mississauga
Resources
Download the slides in PDF format: TABE Webinar – Cities Post-COVID – Shauna Brail
CABE provides this information as a service to our members. Materials shown in the slides and/or video have been provided with the permission of the speaker(s). All rights belong to them unless otherwise indicated. CABE is not responsible for the accuracy or content of information contained. CABE is not responsible for, and expressly disclaims all liability for, damages of any kind arising out of use, reference to, or reliance on any information contained within this website.