Energy Trends: Risks and Opportunities for Canada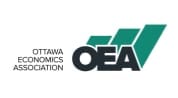 Join the Ottawa Economics Association (OEA) for a presentation on energy trends by Francis Bradley, President and Chief Executive Officer at Electricity Canada, and Rory Johnston, Founder of Commodity Context and Managing Director and Market Economist at Price Street.
Canada is a global leader in energy production, ranking 5th and 6th in natural gas and crude oil production in the world. Canada is also known for its emerging renewable energy sector, and is expected to increase its supply of renewable energy products to international markets in the coming years.
The Russian invasion of Ukraine has disrupted energy supply at its core, affecting many countries, especially in Europe, leading to uncertainty around the future of energy security.
Amidst this energy crisis, countries are turning to Canada for energy products. At the same time, energy prices in Canada continue to rise; households are facing their largest electrical and gas bills in years.
As the international demand for Canadian energy increases, can Canada meet soaring global and domestic energy demand, while fostering innovation in renewable energy and fossil fuel sources?
During this event, Mr. Bradley and Mr. Johnston will share insights on energy trends, and opportunities and challenges facing Canada internationally and domestically.
Resources
Download the slides in PDF format:
OEA Webinar – Energy Trends – Francis Bradley
OEA Webinar – Oil Market Rollercoaster – Rory Johnston

President and CEO, Electricity Canada
Francis Bradley
Francis Bradley is the President and Chief Executive Officer of Electricity Canada. Founded in 1891, Electricity Canada (formerly the Canadian Electricity Association) is the national voice for sustainable electricity for its members and the customers they serve as the country works towards a Net Zero by 2050 future.
Electricity Canada members include integrated electric utilities, independent power producers, transmission and distribution companies, power marketers, manufacturers and suppliers of materials, technology, and services. The Association supports, through its advocacy efforts, the regional, national, and international success of its members.
Francis is the co-chair of the National Cross-Sector Forum, overseeing Canada's Action Plan for Critical Infrastructure. He also sits on the Steering Committee for the Electricity Sub-Sector Coordinating Council (ESCC), the Board for the Energy Council of Canada (ECC), the Positive Energy Advisory Council, and is a founding Board member of the Canadian Transportation Alliance. At the North American Electric Reliability Corporation's (NERC) Member Representatives Committee and Board of Trustees' meetings, Francis represents Electricity Canada and advocates strongly for its members in their activities related to the Electric Reliability Organization Enterprise, and its role in ensuring the reliability and security of the North American bulk power system.
Prior to being named CEO in June 2019, Francis managed Electricity Canada's day-to-day activities as Chief Operating Officer since 2014. During that time, he also was a member of the National Advisory Committee of Canada's Platform for Disaster Risk Reduction and was a co-chair with the Standards Council of Canada of the Smart Grid Standards Advisory Committee.
In 2019, Francis created and continues to host "The Flux Capacitor" podcast series featuring discussions about the future of electricity with CEOs, regulators, political figures, and leaders from civil society. The Flux Capacity is currently airing episode 064.

Founder, Commodity Context and Managing Director and Market Economist, Price Street
Rory Johnston
Rory Johnston is the founder of Commodity Context, a market research firm specializing in the oil & gas market and publishing on Substack. He also works as Managing Director and Market Economist at Price Street, a Toronto-based family office, where he leads market research and contributes to allocation strategy. Rory has spent the last decade researching energy systems and until recently led commodity economics research at Scotiabank; his views are regularly sought by media, industry, and government. Rory holds a Master of Global Affairs degree from the University of Toronto's Munk School of Global Affairs and Public Policy as well as a bachelor's degree in Political Studies from Queen's University.
CABE provides this information as a service to our members. Materials shown in the slides and/or video have been provided with the permission of the speaker(s). All rights belong to them unless otherwise indicated. CABE is not responsible for the accuracy or content of information contained. CABE is not responsible for, and expressly disclaims all liability for, damages of any kind arising out of use, reference to, or reliance on any information contained within this website.