Global Affairs Canada's State of Trade 2022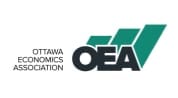 Canada's State of Trade 2022: The good, the bad and… the record-breaking highs?
Canada's trade with the world has faced multiple challenges over the past few years, from pandemic-induced supply chain disruptions and travel restrictions to shortages of critical components to production and, more recently, contending with inflation and other disruptions resulting from Russia's attack on Ukraine. But through all of this, Canadian exporters have been remarkably resilient, and exports have surged to record highs. How is that possible?
Join us for the launch of Global Affairs Canada's State of Trade 2022 report and enjoy a dynamic discussion on the current situation facing Canadian businesses and where to go from here.
Resources
Download the slides in PDF format:  OEA Webinar – State of Trade 2022
Please note that there is no video available for this event.

Chief Economist and Director General Trade Analysis Bureau, Global Affairs Canada
Marie-France Paquet
Marie-France Paquet leads a team of analysts in reporting and advising on international trade, investment and economic issues. Current economic research and analysis projects include the impact of trade agreements on labour and gender, the determinants of export for SMEs, the impact of the Trade Commissioner Services on Canadian exporters' performance, the impact of foreign direct investment on the economy, the vulnerability of Canadian supply chains, and the impact of COVID-19 on trade.
She has taught economics at the School of Management at the University of Ottawa, and has held several positions in the federal government of Canada. Dr. Paquet was the Director of Operations, Economic and Regional Development Policy Secretariat at the Privy Council Office, providing policy advice to the Clerk of the Privy Council and the Prime Minister on a wide range of economic and regional development issues.
She also worked at Transport Canada on the coordination of the policy response to the Lac-Mégantic tragedy. Dr. Paquet received her PhD in Econometrics from Université Laval jointly with Université Paris I Panthéon-Sorbonne.

Vice President, International Trade and Investment, Business Council of Canada
Trevor Kennedy
Trevor Kennedy leads the Council's work on Canada's international trade and investment ties. He advises and executes the Council's trade policy initiatives, liaising with Canadian policymakers as well as business networks involving key international partners, primarily in North America, the Indo-Pacific and Europe.  Trevor also contributes to industry and innovation policy and is responsible for the Council's Corporate Innovator Network.
Prior to joining the Council in 2016, Trevor was a Trade Policy Officer at Global Affairs Canada. He also worked with the Asia Pacific Foundation of Canada as a Junior Research Fellow focused on trade policy.  He has lived and worked in Japan with the Japan Exchange (JET) Programme and speaks fluent Japanese.
He holds a Master of Arts in Asia Pacific Policy Studies from the University of British Columbia and a Bachelor of Arts in International Relations from St. Thomas University, New Brunswick.

Vice-President, Exports, Investissement Québec International
Marie-Eve Jean
Marie-Eve Jean was appointed Vice-President, Exports, of Investissement Québec International in June 2020.
After holding the position of Director, Asia-Pacific and Oceania Markets at the Ministère de l'Économie et de l'Innovation (MEI-Export Québec) from 2011 to 2017, Ms. Jean took over as Montréal Regional Director at the MEI and then was appointed Québec's Delegate General in Munich in May 2018. Thus, her career path has involved working to support exporters at different levels, both in Québec and abroad.
Ms. Jean holds a bachelor's degree in business administration (international management and operations and production management) from HEC Montréal and has completed the Cercle des jeunes leaders de l'administration publique program at the École nationale d'administration publique. She has also taken specialized management courses at the University of St. Gallen, in Switzerland.

Chief Economist, Canadian Chamber of Commerce
Stephen Tapp
Stephen Tapp is the Chief Economist at the Canadian Chamber of Commerce. In this role, he is a key member of the Chamber's executive leadership team, responsible for economic analysis and research. His focus is on developing data, analytics and forecasting capacities to provide real-time and forward-looking insights for Canadian businesses of all sizes, in all sectors and regions of the country.
Stephen brings 20 years of diverse experiences at many of Canada's top economic organizations including at: Export Development Canada as the Deputy Chief Economist, the Bank of Canada, Parliamentary Budget Office, Finance Canada, two think tanks as well as academia.
He is a recognized thought leader, frequent commentator, and sought-out spokesperson on economic issues in Canada. Stephen's research was awarded the Purvis prize for Canadian economic policy and has been published in academic journals, such as the Canadian Journal of Economics and Canadian Public Policy. He has a Ph.D. and M.A. in Economics from Queen's University and an Honors B.A from Western. During his undergrad, he studied in the Netherlands and was the owner-operator of a student painting company.
CABE provides this information as a service to our members. Materials shown in the slides and/or video have been provided with the permission of the speaker(s). All rights belong to them unless otherwise indicated. CABE is not responsible for the accuracy or content of information contained. CABE is not responsible for, and expressly disclaims all liability for, damages of any kind arising out of use, reference to, or reliance on any information contained within this website.