Navigating the Pandemic and its Trade Implications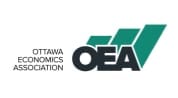 Join the Ottawa Economics Association for a presentation by Marie-France Paquet, Chief Economist at Global Affairs Canada.
Canada's economic success depends heavily on its ability to harness trade and build strong relationships with its trading partners.
The Trump administration with its protectionist agenda had already undermined a number of Canadian industries over the last four years. And now, the COVID-19 pandemic shook the international trade system at its core, affecting every country around the world.
Despite the "Buy American" policy to cope with the ramification of the pandemic, the arrival of a new US administration opens the door to new opportunities or at least more predictability going forward.
During this event, Ms. Paquet will highlight emerging insights on threats and opportunities facing Canada from international trade. She will also outline the potential directions that are being examined as countries around the world eye trade protectionism in these difficult times.

Chief Economist and Director General Trade Analysis Bureau, Global Affairs Canada
Marie-France Paquet
Marie-France Paquet leads a team of analysts in reporting and advising on international trade, investment and economic issues. Current economic research and analysis projects include the impact of trade agreements on labour and gender, the determinants of export for SMEs, the impact of the Trade Commissioner Services on Canadian exporters' performance, the impact of foreign direct investment on the economy, the vulnerability of Canadian supply chains, and the impact of COVID-19 on trade.
She has taught economics at the School of Management at the University of Ottawa, and has held several positions in the federal government of Canada. Dr. Paquet was the Director of Operations, Economic and Regional Development Policy Secretariat at the Privy Council Office, providing policy advice to the Clerk of the Privy Council and the Prime Minister on a wide range of economic and regional development issues.
She also worked at Transport Canada on the coordination of the policy response to the Lac-Mégantic tragedy. Dr. Paquet received her PhD in Econometrics from Université Laval jointly with Université Paris I Panthéon-Sorbonne.
CABE provides this information as a service to our members. Materials shown in the slides and/or video have been provided with the permission of the speaker(s). All rights belong to them unless otherwise indicated. CABE is not responsible for the accuracy or content of information contained. CABE is not responsible for, and expressly disclaims all liability for, damages of any kind arising out of use, reference to, or reliance on any information contained within this website.