Oil, Climate, and Peak Demand: Canada's Oil Industry after COVID

with Andrew Leach
Please join us for a discussion about the latest developments in the oil and gas sector and climate policies with Andrew Leach. He will discuss what the Biden Presidency mean for climate change and pipelines, implications of ESG investing on the oil industry, future of oil sands and clean energy innovation.
About the Speaker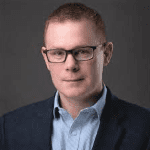 Andrew Leach is an energy and environmental economist and is Associate Professor at the Alberta School of Business. His academic research spans energy and environmental economics including topics such as oil sands regulation, clean energy innovations, with a specific focus on climate change policies.
He is a contributing writer for a number of Canadian news outlets including CBC and The Globe and Mail. Andrew has also consulted for Environment Canada, the National Roundtable on the Environment and the Economy (NRTEE), the Auditor General of Alberta, Alberta Environment, Alberta Finance and Enterprise, and Alberta Energy.
Resources
See the slides in PDF format: CABE Webinar Alberta and its Oil Industry after COVID – Andrew Leach
CABE provides this information as a service to our members. Materials shown in the slides and/or video have been provided with the permission of the speaker(s). All rights belong to them unless otherwise indicated. CABE is not responsible for the accuracy or content of information contained. CABE is not responsible for, and expressly disclaims all liability for, damages of any kind arising out of use, reference to, or reliance on any information contained within this website.