The Art of Sharing: The Richer Versus the Poorer Provinces Since Confederation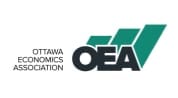 The Ottawa Economics Association invites you to a webinar on: The Arts of Sharing: The Richer Versus the Poorer Provinces Since Confederation with the author and former Hill Journalist Mary Janigan.
During her presentation, Mary Janigan will discuss the insight she gained on the equalization program and redistributing wealth across the confederation to ensure that all government can provide similar level of public services across the country. In her book, The Art of Sharing, Janigan tells the dramatic history of Canada's efforts to save the Confederation. Mary Janigan argues that the elusive ideal of fiscal equity in spite of dissent from richer provinces has helped preserve Canada as a united nation.
In her book, Janigan goes back to Confederation to trace the escalating tensions among the provinces across decades as voters demanded more services to survive in a changing world. Introducing the idealistic Canadians who fought for equity along with their radically different proposals to achieve it The Art of Sharing makes the case that a willingness to share financial resources is the real tie that has bound the federation together into the twenty-first century.
Resources
Find The Art of Sharing: The Richer versus the Poorer Provinces since Confederation on Amazon Canada or Indigo.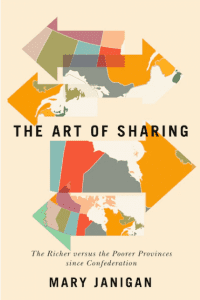 Historian and Former Journalist
Mary Janigan
Mary Janigan is a former journalist who obtained a doctorate in Canadian history from York University in 2017. Her first history book, Let the Eastern Bastards Freeze in the Dark: The West Versus the Rest Since Confederation, was published in November 2012. She won the J. W. Dafoe Book prize in 2013 and it was a finalist for the Donner Book Prize. She completed an M.A. in history at York in 2008-2009. Prior to that, she was a journalist for more than three decades, including a decade on Parliament Hill.  She would say that job was a ticket to lifelong learning. Her subsequent academic studies allowed her to pursue a decades-long fascination with resource control as well as equalization and transfer payments.  In her own words, she would say she intends to keep writing history books for the rest of her days.
CABE provides this information as a service to our members. Materials shown in the slides and/or video have been provided with the permission of the speaker(s). All rights belong to them unless otherwise indicated. CABE is not responsible for the accuracy or content of information contained. CABE is not responsible for, and expressly disclaims all liability for, damages of any kind arising out of use, reference to, or reliance on any information contained within this website.