The Outlook: COVID Recovery, Inflation, Demographics and Climate Change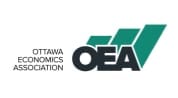 Like many countries worldwide, the Canadian economy is quickly recovering, but with many complications. Inflation increased rapidly during 2021. This has raised concerns about whether government spending is driving inflation and the implications for wage growth, and the recovery's sustainability. The recent moves by the Bank of Canada to announce a change in strategy, while holding the overnight rate at 0.25%, continues to fuel the debate. Can we expect increased consumer spending, and strong growth in jobs, exports and investment, if/when the virus fades? Will supply-chain challenges persist and keep fueling inflation?
Moreover, structural forces are also at play. Aging demographics are dragging down long-term growth potential. Climate change is beginning to reshape the economy. Severe weather events are disrupting near-term growth, and the transformation to a low-emissions economy could impact jobs, businesses and investment – but also create new opportunities.
Glen Hodgson recently briefed new Parliamentarians and Senators on these issues. Join the OEA and CABE for an extended version of the presentation on February 17. Following the presentation, Stephen Tapp will have an in-depth and informed discussion with Mr. Hodgson to highlight some critical points.
Do not miss this timely and exciting OEA-CABE webinar featuring two leading minds in Canadian economics.
Resources
Download the slides in PDF format:  OEA Webinar – COVID Recovery, Inflation, Demographics and Climate Change

Economist and Financial Consultant
Glen Hodgson
Glen Hodgson has 40 years of experience in global and Canadian macroeconomics, international finance, fiscal policy, and other "big picture" topics.
Glen's career spanned the Conference Board of Canada, where he was Senior Vice-President and Chief Economist for over a decade; Export Development Canada (EDC); the Canadian Department of Finance; and the International Monetary Fund (IMF) in Washington D.C.
His current affiliations include: Senior Fellow at the C.D. Howe Institute; Chief Economist with International Financial Consulting Ltd (IFCL); expert panelist at the Canadian Institute for Climate Choices; and Fellow with the Public Policy Forum. He is a board member of the Veristell Institute, a past president of the Ottawa Economics Association, and was a member of the Ecofiscal Commission.
Recent analysis includes: a UNDP project to develop the first integrated national financial framework for Nigeria; CD Howe Institute research on the governance of Crown corporations, and on the Canadian green bond market; the legislative review of EDC; and aspects of sustainable finance and the economics of climate change.
Glen has co-authored two books and written approx. 450 reports, briefings and articles. He has delivered many presentations to audiences of all types and sizes, and done numerous media interviews via print, TV, radio and social media.
He is a graduate of McGill University, where he was a PhD candidate in economics, and the University of Manitoba.

Chief Economist, Canadian Chamber of Commerce
Stephen Tapp
Stephen Tapp is the Chief Economist at the Canadian Chamber of Commerce. In this role, he is a key member of the Chamber's executive leadership team, responsible for economic analysis and research. His focus is on developing data, analytics and forecasting capacities to provide real-time and forward-looking insights for Canadian businesses of all sizes, in all sectors and regions of the country.
Stephen brings 20 years of diverse experiences at many of Canada's top economic organizations including at: Export Development Canada as the Deputy Chief Economist, the Bank of Canada, Parliamentary Budget Office, Finance Canada, two think tanks as well as academia.
He is a recognized thought leader, frequent commentator, and sought-out spokesperson on economic issues in Canada. Stephen's research was awarded the Purvis prize for Canadian economic policy and has been published in academic journals, such as the Canadian Journal of Economics and Canadian Public Policy. He has a Ph.D. and M.A. in Economics from Queen's University and an Honors B.A from Western. During his undergrad, he studied in the Netherlands and was the owner-operator of a student painting company.
CABE provides this information as a service to our members. Materials shown in the slides and/or video have been provided with the permission of the speaker(s). All rights belong to them unless otherwise indicated. CABE is not responsible for the accuracy or content of information contained. CABE is not responsible for, and expressly disclaims all liability for, damages of any kind arising out of use, reference to, or reliance on any information contained within this website.