MABE Outlook 2023 Conference (in-person)

The 35th annual MABE Outlook Conference, the only one of its kind in Manitoba, is designed for the person who needs to know where the provincial economy is headed over the next year. From an overview of the national and local situation, to details on essential industries and briefings on emerging issues, this conference brings you the latest information from national and local experts who know what's happening.
The event occurred on March 10, 2023.
Select Event Photos
Treaty One CEO Whelan Sutherland presenting at the MABE Outlook Conference 2023 on the transformative Naawi-Oodena project that is taking shape on the former Kapyong Barracks.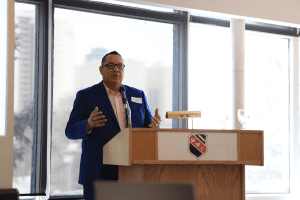 As this was MABE's 35th Outlook Conference, we enjoyed a celebratory cake after lunch.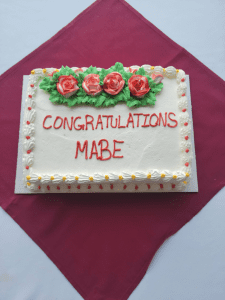 Speakers

Chris Ferris
Chris Ferris serves as the MABE President. Chris is Senior Economist with Economic Development Winnipeg.

Alexander Fritsche
Regional Director (Economics),
Bank of Canada

Thomas Williams
Chief Economist,
Manitoba Bureau of Statistics, Department of Finance

Joe Kornelsen
Executive Director,
West End Biz

Whelan Sutherland
Chief Executive Officer, Treaty One

Kent Brown
Vice President of Training and Development, Legacy Bowes

Dave Simonot
Intelligence Specialist – Crops,
Manitoba Agriculture and Resources

Colleen Sklar
Executive Director,
Winnipeg Metropolitan Region
CABE provides this information as a service to our members. Materials shown in the slides and/or video have been provided with the permission of the speaker(s). All rights belong to them unless otherwise indicated. CABE is not responsible for the accuracy or content of information contained. CABE is not responsible for, and expressly disclaims all liability for, damages of any kind arising out of use, reference to, or reliance on any information contained within this website.