Industry Trends, Growth Opportunities and Barriers to Full Recovery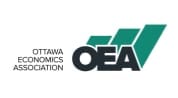 Canada's industrial fabric has been negatively affected by the COVID-19 pandemic. Certain sectors experienced it more severely than others, resulting in widespread layoffs and reduced business activities. Small and medium-sized enterprises in accommodation and food services, tourism, and a lesser extent, manufacturing were some of the hardest-hit sectors. More than a year later, what is the status of these industries currently? Have they all recovered to pre-pandemic levels? What are the barriers to full recovery?
Find out from some of the influential leaders and executives in these industries at the OEA Annual General Meeting and webinar on November 16.
Resources
Download the slides in PDF format:
OEA Webinar – Industry Trends, Growth Opportunities and Barriers to Full Recovery – CFIB
OEA Webinar – The Future of Canada's Tourism Industry – TIAC
OEA Webinar – The Hospitality Industry in Ontario COVID-19 – ORHMA
OEA Webinar – Manufacturing Outlook – CME

Vice-President, National Research, Canadian Federation of Independent Business (CFIB)
Simon Gaudreault
Simon Gaudreault is the vice president of national research for the Canadian Federation of Independent Business (CFIB). He is responsible for conducting research and lobbying on a variety of economic, commercial, political and social issues affecting SMEs across Canada. Simon is also a national spokesperson for CFIB. In this capacity, he is an occasional media commentator on news relating to SMEs and economics. Simon joined CFIB in April 2011 as an economist. He assumed direction of national research in 2018 and was appointed to his current position in 2021.

President & CEO, Tourism Industry Association of Canada (TIAC)
Beth Potter
Beth Potter is an accomplished leader with over 35 years of diversified provincial, national association experience, and close to 20 years in the tourism sector. In March of 2021, Beth joined the Tourism Industry Association of Canada (TIAC), with a vision to heighten the awareness of the industry across Canada, and to strengthen the organization's advocacy objectives and results as the sector works through and post the COVID-19 pandemic.

President & CEO of the Ontario Restaurant Hotel and Motel Association (ORHMA)
Tony Elenis
Tony Elenis is President & CEO of the Ontario Restaurant Hotel and Motel Association, the largest provincial hospitality association in Canada representing approximately 4,000 members and 11,000 establishments in the hospitality sector. Tony was appointed to this position in April of 2008. As an Ontario hospitality leader with over 35 years of industry experience and a proven track record of positive contributions to hospitality and management, Tony Elenis is dedicated to supporting the hospitality and tourism industry of Ontario.

Chief Economist, Canadian Manufacturers & Exporters (CME)
Alan Arcand
Alan Arcand is a member of the National Policy team where he is responsible for developing and executing CME's major national research projects, conducting CME's macroeconomic analysis to support the organization across the country, managing our tax policy efforts, and be a leading voice representing the interests of the association and members with government and with the public.
Before joining CME, Alan spent 19 years at The Conference Board of Canada where he held multiple roles, including the Associate Director of the Centre for Municipal Studies. Alan's background includes expertise in municipal, regional, and national economic matters including economic forecasting and analysis.
Alan has an M.A. in Economics from Queen's University.

Associate Professor, Carleton University
Jennifer Robson
Prior to joining Carleton, Jennifer Robson was director of policy for the non-profit SEDI (now Prosper Canada) and worked in the federal public service. Between 1994 and 2000, she worked in several political (exempt staff) roles. Her primary areas of research are at the intersection of household finances, particularly for lower and modest income people, and the design and implementation of public programs including tax policy, financial capability and financial services, income security and household liquid savings.
CABE provides this information as a service to our members. Materials shown in the slides and/or video have been provided with the permission of the speaker(s). All rights belong to them unless otherwise indicated. CABE is not responsible for the accuracy or content of information contained. CABE is not responsible for, and expressly disclaims all liability for, damages of any kind arising out of use, reference to, or reliance on any information contained within this website.